Best Carpet
Cleaning Service

in Cambridge, ON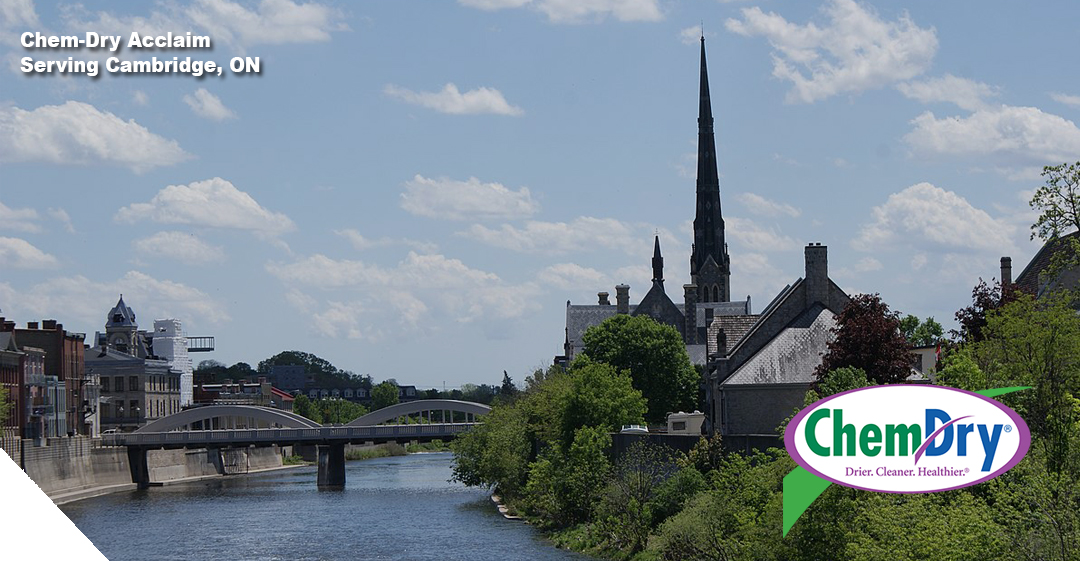 Carpet and Upholstery Cleaning Done Right in Cambridge
As you local experts serving Cambridge, ON, and surrounding communities, Chem-Dry Acclaim offers a drier, cleaner, healthier carpet cleaning experience. Delivering a winning formula for customer satisfaction, you will discover we have highly trained employees and affordable prices while using a industry leading cleaning system. Our approach employs the most recent modern advances. The best cleaning service around can be expected every time you schedule an appointment with the most skilled carpet cleaners in Galt, Hespler and all of Cambridge. A product named The Natural is the primary cleaning solution that we employ. This solution enables the dry time for your carpets to be just a couple of hours, it enables for the clean to endure longer, and it is made from green certified ingredients. You are certain to instantly notice how extraordinary our process is.
Different cleaning services, including most steam cleaners, will leave your carpets soaked wet for a couple of days. Our Hot Carbonating Extraction system employs 80% less water compared to what other carpet cleaners would require, so your carpets are going to be dry after only one to two hours. This process that we implement makes use of the power of carbonation. Instead of dumping gallons of soapy water in your home, tons of sparkling bubbles are used to achieve the deepest clean available. If you are looking for a professional service that enables you to return to your lifestyle quickly, you've found the best business!
Most Cambridge, ON trained carpet cleaners have an approach that will leave behind a gummy, filth attracting deposit. This is a challenge for two major reasons: you may feel discomfort in your own home and your carpets will end up spotted easily after. It may be almost impossible to rinse out the strong soaps, shampoos, chemicals, or detergents that many cleaning firms work with; this makes the residual much worse. The most dependable, deepest cleaning on the market is as a result of carbonation. No dirt attracting residues are left behind using this method. Together with the correct heat, the most beneficial quantity of moisture, and carbonation instead of harsh chemicals, your home will receive the greatest treatment with Chem-Dry Acclaim. Dirt and soil allergens that are trapped inside the carpet fibres will be loosened by the carbonating bubbles and lifted to the surface so our equipment can extract them away. This very same type of treatment is used to get rid of a number of annoying spots and stains.
Green carpet and upholstery cleaning is well-loved in Cambridge, ON. The primary cleaning solution we use at Chem-Dry Acclaim is green certified and safe enough to drink. Honestly safe and non-toxic, we're extremely pleased to say our option is safe enough to help keep your pets and family safe. In case a members of the family member has allergies or other sensitivities, our standard cleaning solution is recommended as it won't aggravate those sensitivities. Best of all, no overpowering chemical aroma remains, just the odor of clean and fresh carpets!
When using the driest, cleanest, and healthiest carpet cleaning service in Cambridge, ON, you can rely on Chem-Dry Acclaim to enhance your home with the finest treatment for your family members!
Looking for a reliable carpet cleaning service in Cambridge, ON?
If you are looking for a reliable, fast drying and healthy cleaning service in Cambridge, for your carpets, upholstery, area rugs, tile and grout (and much more) look no further. Chem-Dry Acclaim is a trusted carpet cleaning service in the area for a reason.  We are dedicated to providing you with the healthiest and most thorough clean in the area… guaranteed! Reach out today at 866-488-3832 for your free over the phone estimate!
Our Healthy Home Services
We make your carpets like new again without harsh chemicals.
Our signature process cleans, refreshes & protects your furniture.
We offer professional leather cleaning and restoration services.
Keep germs out by sealing your grout
Our patented process is the safest and most effective for your fine rugs
Our patented P.U.R.T. process destroys 99.9% of urine odors its applied to.