Stone,
Tile and Grout Cleaning
in Stratford, Kitchener/Waterloo, Cambridge, Guelph and area
Best known for our carpet cleaning service, Chem-Dry professionals are much more than carpet cleaners and offer more services today than ever before. Just like our oriental rug cleaning, carpet cleaning and upholstery cleaning services, Chem-Dry's professional tile and stone cleaning reduces the dirt that can spread germs, so your surfaces and your home will sparkle and be safer for your family and pets. Safeguard the health of your family and the beauty of your home with stone, tile and grout cleaning services from Chem-Dry.
An independent laboratory recently conducted a study to determine the healthfulness and efficacy of our Tile, Stone & Grout Cleaning process. Based on several tests on tile surfaces in multiple homes, this study found that our Tile, Stone and Grout cleaning process, in conjunction with a protection solution, can reduce germs from these surfaces.
One of the nicest touches to the basic architectural components of a home is ceramic or stone tile in kitchens, bathrooms, entryways and even outdoors. It's hard to go wrong with tile. It's durable, long-wearing, and looks great. A stone tile floor in the entryway immediately adds an air of class in a home, and there's nothing quite like a stone patio in the backyard to host a barbecue for family and friends.
Unfortunately, tile and stone are not immune to the unhealthy elements that are in and around your home. Over time, dirt and grime build up in the porous surfaces of your stone, tile and grout flooring, turning them into a breeding ground for disease-causing bacteria. Especially in areas like the bathroom and kitchen, where germs can run rampant, it's important to do everything you can to cut down on the spread of bacteria. While regular sweeping and mopping are helpful at keeping excessive build-up at bay, those don't deliver the deep cleaning that your floors really need.

Keep Germs Out By Sealing Your Grout
As a part of every cleaning, your certified Chem-Dry professional will apply a coat of durable sealant to your grout. When our trained staff applies the sealant, a barrier is created, minimizing the amount of dirt that is able to seep into the grout pores. This helps your grout stay cleaner, longer and maintenance is simple because dirt doesn't penetrate deep into the cracks.
Tile Cleaned By Chem-Dry Looks Better and Lasts Longer
It is recommended that your tile, stone and grout be cleaned every 12-18 months to ensure long-lasting protection. Sparkling, clean, fresh tile and stone looks better and is healthier for people and pets. Chem-Dry's service is perfect for many varieties of tile and stone such as Saltillo, ceramic, porcelain, slate, granite and travertine. Also ask about our grout color restoration service to rejuvenate existing grout joints.
See the difference a Chem-Dry Professional Tile and Stone Cleaning can make: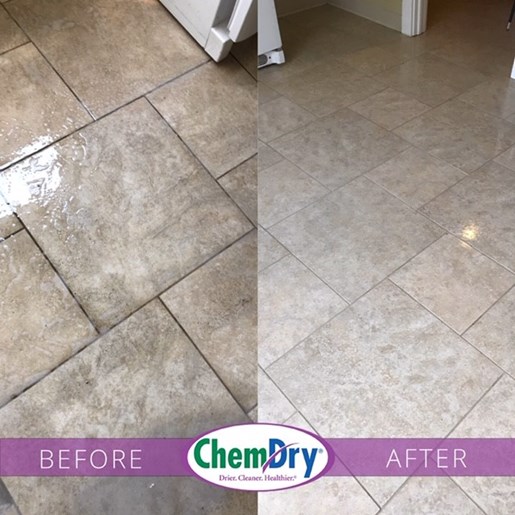 Renew the look of your tile, grout and stone by calling Chem-Dry today. As a trained Tile & Stone service provider, we can provide a free phone estimate.
Our 3 RISK-FREE Guarantees For You
Nothing is more important than your complete and total satisfaction.
You Get Our Iron-Clad, Risk-Free, Money-Back Guarantee
The most thorough cleaning you have ever experienced ...or it's FREE!