Affordable
UPHOLSTERY CLEANING
in Stratford, Kitchener/Waterloo, Cambridge, Guelph and area
Regular cleanings by us will add years to the life of your upholstery!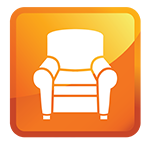 Most homeowners and businesses wait too long to clean their upholstery! Whether they are afraid of the cost of the service or the cleaning of delicate fabrics, they allow stains to remain untreated and soil unremoved for years, until it may be too late.
A proper, thorough cleaning by us can freshen and restore your upholstery and add to the life of the fabric. Our expert technicians are trained to handle the most difficult of fabrics, including Haitian Cotton, Silk, Wool, Velvet, and many other fabrics, including white and off-white fabrics that most services refuse to touch.

We are proud of the fact that we can clean just about any type of fabric there is, including leather & vinyl. Through in depth training, we have mastered the techniques that can clean even the most delicate fabrics.
You Can Place Your Trust In Us: we are professionals ready to do the job, with training to do it right!  We can clean even antique and heirloom pieces to like new color and sheen.
The patented Chem-Dry cleaning solution generates millions of tiny effervescent bubbles which penetrate the fibres of the upholstery, dissolve dirt and stains, and act as tiny propellants that actually lift dirt to the surface for removal. With the Chem-Dry cleaning system, stubborn stains simply disappear.
Your upholstery will take less time to dry, and because there are no dirt-attracting residues, they will stay cleaner longer. Unlike steam and shampoo methods, Chem-Dry virtually eliminates the worry of; 
over-wetting, 

rapid resoiling, 

toxicity, 

shrinkage, 

long drying times. 
It took many years and millions of dollars to formulate this method, but we promise that you will never look at your carpets the same again!
Is your upholstery in need of a fresh start? Our certified technicians can help!
We are the most trusted provider of Upholstery Cleaning in Kitchener, Waterloo, Guelph, Stratford and surrounding areas! Our professional technicians can ensure that your upholstery is like-new and healthy through our unrivalled process. Call today at 866-488-3832 for more information and a free quote over the phone!
Our 3 RISK-FREE Guarantees For You
Nothing is more important than your complete and total satisfaction.
You Get Our Iron-Clad, Risk-Free, Money-Back Guarantee
The most thorough cleaning you have ever experienced ...or it's FREE!