Experienced
Area Rug Cleaning Services
in Stratford, Kitchener/Waterloo, Cambridge, Guelph and area
It's In The Bubbles…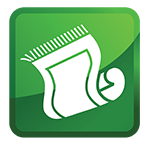 Surely, you have heard of using club soda to remove stains. It is amazingly effective. Ironically, club soda contains no inherent cleaning elements – the bubbles do the work. Chem-Dry's cleaning system acts exactly the same way.
It is an active, effervescent solution that explodes dirt and grime from your rug and lifts them to the surface where they can be removed. The process is completely safe and effective for your area rugs.

You can count on Chem-Dry Acclaim to take care of your valuable area rugs
At Chem-Dry we provide Area Rug Cleaning in our Shop that is dedicated to the cleaning of your valuable area rugs. Our service includes:
Pick-up of your rugs from your home or office;
Thorough pre-inspection and testing to ensure that your rug can in fact be effectively cleaned without damaging it;
Cleaning of your rug with our patented cleaning product, "The Natural®" and an application of our carpet stainguard protection, called "PowerGuard®";
We clean the rug fringes individually by hand;
Specialized spotting to remove the stubborn stains that were not removed during the general cleaning process;
Hand brushing of the rug using specialized area rug brushes; and
Wrapping for delivery and Delivery back to your home or office.
Our Area Rug service staff is specifically trained to clean valuable and rare area rugs and we ensure that your rugs are well cared for. Normal cleaning times for area rugs is between 7 – 10 business days. Rush orders can usually be accommodated upon request.
Our Oriental Rug Cleaning Process:
First, your rugs are beater-bar vacuumed on both sides to dislodge and remove all loose particulate soil.
Next "The Natural" cleaning solution is applied. This carbonated solution will gently emulsify dirt and stains then propel them to the surface where they can be extracted. If necessary heavily soiled rugs may receive additional cleanings.
Once they are cleaned to our high standards, a deodorizer and protector is applied.
Special fringe treatments will be applied to whiten and brighten even the dirtiest fringes.
Next the rugs are groomed to restore the pile and nap to like new condition.
The rugs are then hung in our environmental drying chamber. This specially designed room allows even the most heavily soiled rugs to dry in as little as two to three hours. Faster drying times reduce the risk of color bleeding, mold and mildew.
Once dried they will be re-vacuumed, rolled, bagged and returned to your home or place of business.
As with all of our services, our work is guaranteed to meet your satisfaction. Most of our customers are repeat and referral business, a testament to the fact that quality and service are a trademark of our business.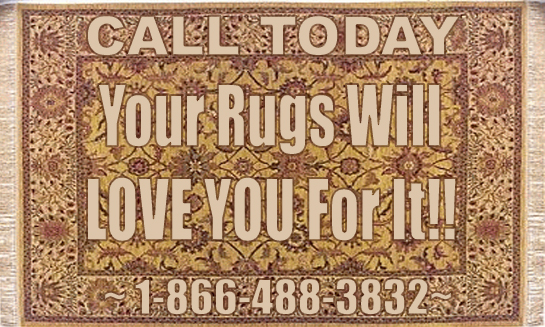 Why Are Area Rugs So Expensive?
If you have ever purchased an authentic, hand made area rug – or seen them at auction going for tens of thousands of dollars or more – you may have asked yourself, why are they so very expensive.  Check out his great video to understand everything that goes into traditional, handmade area rugs, and you will begin to understand how these truly are "treasures under foot"
Looking for ways to maintain the life of your area rug? Get in touch with us today!
If you are looking for ways to clean and maintain your oriental, indian, persian and designer area rugs, we have cleaning, stain and odour removal services available. Get in touch with us today at 866-488-3832, and our carpet and upholstery cleaning experts will provide you with services like cleaning, fibre protection, fringe whitening and more.
Our 3 RISK-FREE Guarantees For You
Nothing is more important than your complete and total satisfaction.
You Get Our Iron-Clad, Risk-Free, Money-Back Guarantee
The most thorough cleaning you have ever experienced ...or it's FREE!