The Professional Choice
in
Carpet Cleaning
for Kitchener, ON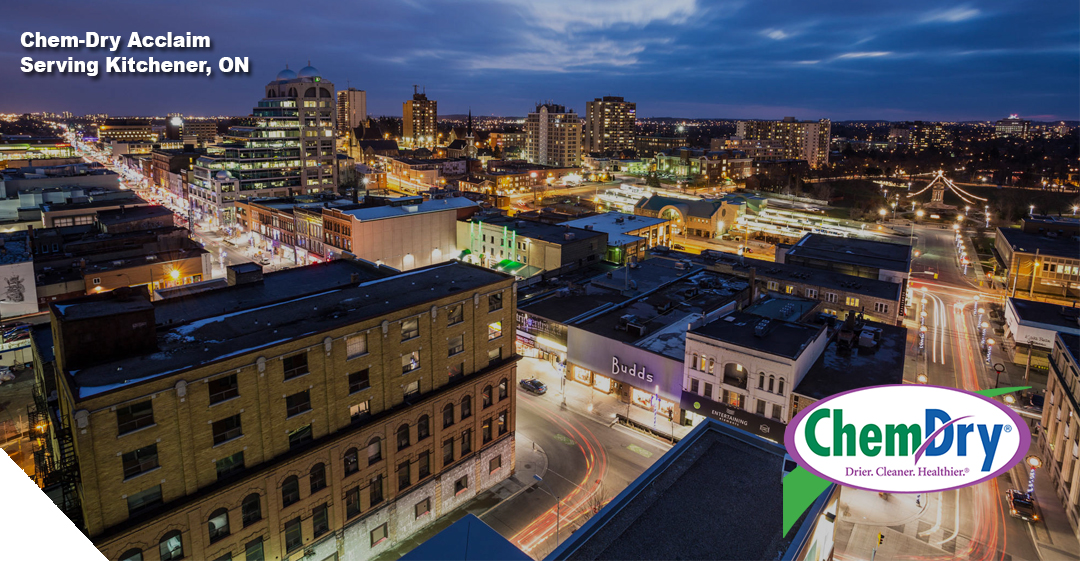 Trust the Chem-Dry Routine
We know that life in Kitchener, ON gets hectic – we've all been through it! At times your carpets have that grey "traffic area" strip down the center, and as much as you'd love to manage it, you just don't have enough time! Allow us to deal with it for you. At Chem-Dry Acclaim, you can rely on us to take care of your carpets like we would our own. There's good reason Chem-Dry Acclaim is the top brand for carpet cleaning. We've established time and again that our ground breaking solutions are the most beneficial around, so give us an opportunity to demonstrate it to you!
Chem-Dry Versus Steam Cleaners
Our methods leave your carpets clean and dry in 1-2 hours. You can't deny that time. It's a lot better than having rooms in your house out of commission for the 1-2 days that most steam cleaners in Kitchener, ON require! The competition will attempt to convince you that dumping oodles of water into your carpets is the best way to go, but we know better. Those methods in fact deposit lots of sticky residue that won't come up with their harsh suction, and you are then left with horrible carpets! At Chem-Dry Acclaim, we clean carpets better than any other carpet cleaner, so employ us to get the job done right the first time!
Have you ever tried to remove a stain from a shirt using club soda? Our powerful carbonated cleaning solution in Kitchener, ON does just that to swiftly and efficiently clean your carpets! Millions of tiny bubbles scrub your carpets themselves, providing you with a deep clean that lasts. Trust the professionals at Chem-Dry Acclaim and our patented Power of Carbonation method to restore your carpet's beauty and to make that clean last!
We offer affordable services in Kitchener, ON with non-toxic solutions that are safe for your home, pets, and kids! As well as leaving your carpets to dry in less time, our cleaning procedure is all natural and healthy. Our patented cleaning solutions are totally safe for your carpets. As a green cleaning company, we offer the carpet cleaning solution that is right for you, as well the environment!
Need help giving your carpets the second life they deserve?
Need help removing stubborn stains from your carpets, upholstery, area rugs or even your tile and grout? Our technicians can help you eradicate stains and leave your home clean and fresh and our top-rated Natural solution can ensure that even the toughest of stains are dealt with! Chem-Dry Acclaim is proud to provide Kitchener with Healthier Homes and a Healthier community through our services! Call now for a free over the phone estimate at 866-488-3832
Our Healthy Home Services
We make your carpets like new again without harsh chemicals.
Our signature process cleans, refreshes & protects your furniture.
We offer professional leather cleaning and restoration services.
Keep germs out by sealing your grout
Our patented process is the safest and most effective for your fine rugs
Our patented P.U.R.T. process destroys 99.9% of urine odors its applied to.