We are proud to feature a unique and patented line of products that can be purchased from Chem-Dry Acclaim. These products are perfect for those in need of an effective soil and spot cleaning solution between professional cleanings by our trained technicians.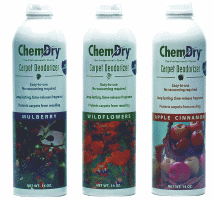 Chem-Dry Carpet Deodorizers are an incredible tool for your home or office. These deodorizers will make powders, stick-ups, and air fresheners obsolete because of their convenience, anti-soiling properties, strong malodor counteractant, and wonderful non-chemical, natural scent. Chem-Dry Carpet Deodorizers are engineered with a unique polymer base which does not encourage soiling, but actually inhibits resoiling better than virgin carpet. This is a unique property in the fragrance industry. Chem-Dry Carpet Deodorizers also utilize a very effective bad-odor counteractant to eliminate unwanted odors and leave only the clean, fresh scent of the solution. Harris Research, Inc. has spent considerable amounts of time and money to develop scents that smell natural and fresh.
Chem-Dry Carpet Deodorizers are available in convenient 14 ounce aerosol cans, and come in three fragrances: Mulberry, Wildflowers, and Apple Cinnamon.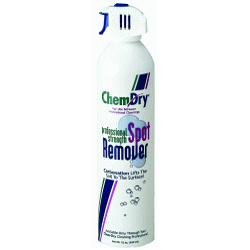 Professional Strength Spot Remover
Excellent product for spot cleaning jobs that are too small to call in your Chem-Dry professional. Superior carbonated cleaner leaves NO SOAPY FOAM, or dirt attracting residue. Chem-Dry's Professional Strength Spot Remover uses carbonated cleaning power to safely remove most soil and stains. A must have for every home or business.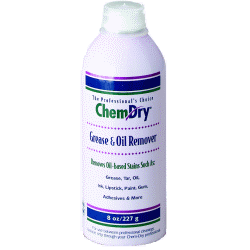 Grease & Oil Remover
Some stains are downright nasty. Especially the ones that are grease or adhesive based. To fight them, we offer this powerful solvent spotter. It removes those stubborn spots you may be tempted to run away from.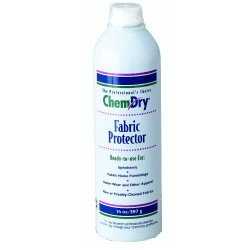 Fabric Protector
This protector helps keep your fabrics and upholstery looking their best. It forms an invisible barrier against dirt and stains. Because it is water repellent, spills won't penetrate the fabric, allowing for easy clean up with a white cloth or towel.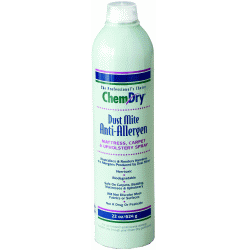 Dust Mite Anti-Allergen
The best way to fight allergies is to eliminate their source. Our Dust Mite Anti-Allergen is a water-based anti-allergen solution containing powerful active ingredients proven effective against household dust mite allergens.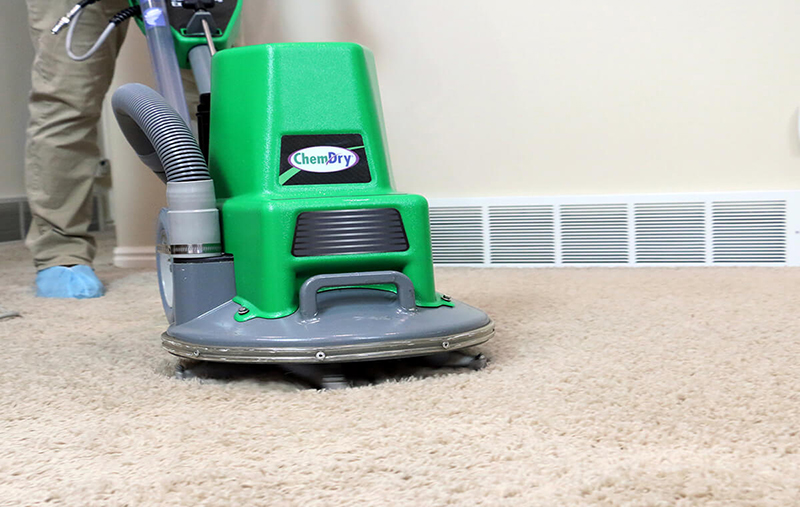 The ultimate carpet protector, Chem-Dry Protectant keeps your carpets looking their best. An advanced formula helps form an invisible barrier against dirt and stains. Over time, factory-applied stain resistant treatments experience a reduction in effectiveness. According to DuPont, "Chem-Dry Protectant refreshens the performance of stain resistant carpets, fortifying their ability to resist soiling and staining. DuPont recommends regular application of Chem-Dry Protectant to all nylon carpets."
The Razor is the latest innovation from Chem-Dry, nationally acclaimed cleaning professionals.
The Razor is intended for cleaning hard floor surfaces and removing spots on carpet. The Razor uses a specially formulated solution and disposable absorbent pads in one neat and simple tool. Call us for ordering information.
The trigger handle allows you to dispense the amount of cleaning solution needed, dissolving both dirt and grease.
The compact design allows you to reach under furniture and appliances, into corners and tight spaces.
Razor cleaning solutions are professional strength, ready to use. No water. No bucket. No mess.
Razor absorbent cleaning pads soak in the solution and lift the dirt form your floors and carpets without leaving a residue.
Our 3 RISK-FREE Guarantees For You
Nothing is more important than your complete and total satisfaction.
You Get Our Iron-Clad, Risk-Free, Money-Back Guarantee
The most thorough cleaning you have ever experienced ...or it's FREE!